St. George is thought to have been born in 280AD in Lydda, Syria Palaestina. He was a soldier in the Roman Empire, later becoming a martyr. Venerated in many religions including Anglicanism, Catholicism, Eastern and Oriental Orthodoxy. He is the patron saint of many countries including England and Russia and is one of the most popular military saints. Depicted here in the famous legend, slaying the dragon.

Right: Saint George - Taken from iconic artwork showing the saint depicted in the 'Greek Style' by Benedetto Pistrucci

Below: Saint George - An Older Depiction from Military Badges

See prices for these rings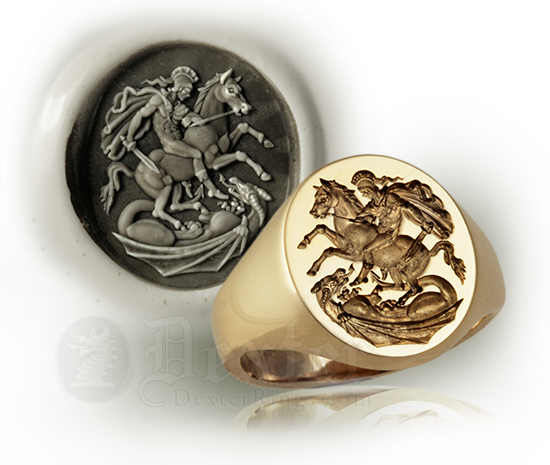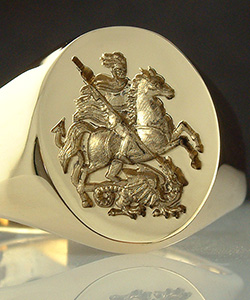 Different Depictions: The two examples of signet rings depicting St. George shown here are taken from artwork from different times. The 18th century depiction is a popular depiction, instantly recognisable and often used in military insignia, logos and even coins. There was a similar design stamped on the British sovereign coin. The other, a much earlier depiction taken from medieval artwork.

Different depictions illustrate our artists are skilled at working in different styles and that any item of artwork is possible to reproduce as a seal ring, albeit with varying degrees of modification to suit the scale we are working at, and the specific size of ring, pendant or desk seal. Our master craftsmen are experienced in working at this scale and will always advise what or the best way to give a satisfactory result on the final product. Remember what looks good in a picture will not necessarily look good in miniature - there is the obvious reduction in scale, and also pictures are 2d renderings, relying on graphic trickery; shade and often colour. Our engraving is 3d, which simply put, the end visual result relies on varying depths of material. It maybe obvious but it is often over looked that engraving and drawing are vastly different mediums! Please always ask if you are considering a commission, we will always give advice, and would only accept a commission if it was feasible.