Clan Rings
Scottish Clan Ring Examples
YOUR Clan on a Ring Available to Buy Today See Prices
---
Selection of Scottish clan rings are shown in a variety of sizes and shapes of ring and in one of three engraving styles. Rings can be engraved 'for show' - Clan motto reads correctly on the ring. 'Traditional Seal' – Reversed for making wax seals in the traditional way. 'Elevated Style' Sometimes called relief engraving where key areas of the Clan badge are raised.
Right: MacDonald of Clanranald Examples: From Left Seal Engraved Ring & its Wax Seal, Show Engraved (un-Reversed), and Elevated Style
YOUR Clan YOUR Ring SEE OPTIONS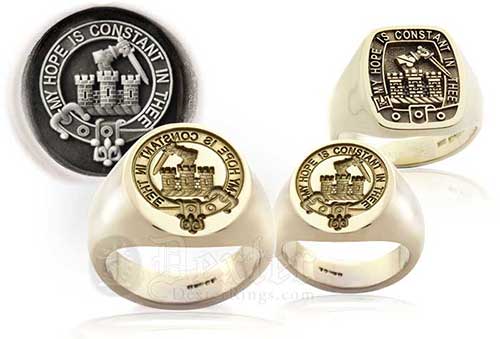 ---
ANY Clan | ANY Ring | ANY Style:
---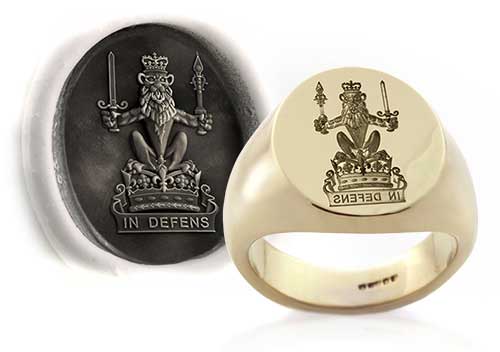 Any Scottish Clan Badge can be engraved onto the ring of your choice in a style you like. If the ring is not shown here we supply artwork prior to engraving your new ring. Please click images for more detail.
Left: Scottish Royal Crest Motto IN DEFENS - Seal engraved onto an oval ring
Related: See Heraldic Crests | Family Coat of Arms | Prices & Options for YOUR CLAN RING
Above: Turnbull | Drummond | Graham | Munro | Bruce | Hamilton | Campbell | Morrison | Fraser | Wallace | Clan Macdonald of Clanranald | McAlees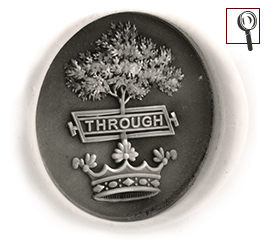 Left: SEE the hand crafted detail we achieve for yourself!
Above: Some More Clan Rings: From top Left - Wallace | Macaulay | Macdonald of Macdonald | Hunter | McIntosh | Young | Sinclair | MacLean | Graham | Campbell | McDowell | Kennedy | Lamont | Ramsay | Irvine | Douglas | Cunningham | Brodie | Boyd | MacKenzie | Robertson