Knights Templar Ancient Seal (M4)
Replica Historic Seal Ring of The Knights Templar
---
Story of The Two Riders?
The Ancient Knights Templar Seal is thought to have been in use since 1167. Depicting two knights on a single horse, the riders are thought to be Godfrey de Saint-Omer and Hugues de Payens. While there are numerous interpretations, we will leave the history to the scholars and do what we do best...
With our experience in the reproduction of historic deep seal engravings, we received a private commission to produce a faithful reproduction of the Knights Templar ancient seal ring. Based on examples of the original Templar Seal, we now offer this engraving, meticulously & time consuming reproduced, on a signet ring of your choice.
Right: Replica Knights Templar Ancient Seal Ring
Choose Your Choice of Ring Engraved with the Ancient Seal: SEE PRICES & OPTIONS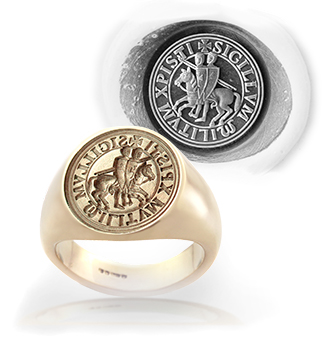 ---
---

Yes we are still guaranteeing orders for Christmas delivery! Most of our products will be guaranteed to be under your tree, all ready to gift your loved one on the big day. If you go ahead and order, be sure to mention you REQUIRE CHRISTMAS DELIVERY in the comments section. This will be confirmed by the helpful Dexter Elves. In the unlikely event this is not possible we will always advise you of the alternatives straight away, or provide a refund if this is not acceptable.