---
Masonic Signet Rings
Freemasonry & Masonic Examples
---
As mastercraftsmen we are proud to supply rings for lodges and individual Freemasons as well as those with an interest in Freemasonry. Select any example shown here, or request something completely different!
Also See: Knights Templar | Faith Rings
Any Masonic engraving shown here OR combination of Masonic ring designs shown here, OR a completely different Masonic design! – FIRST Choose Your Ring: – SEE PRICES / OPTIONS

Easy Ordering: choose your ring & let us know your design - we supply artwork*

*confirmed order only: we supply artwork until you are completely satisfied or your money back.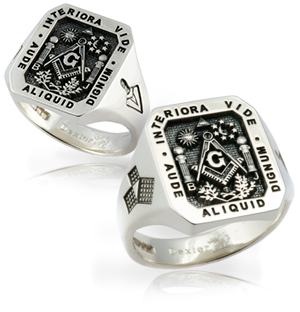 ---
Masonic 'Square & Compass' Rings
Choose / Modify or Compile Your Own Design
Masonic 'Compilation' Style Rings
Choose / Modify or Compile Your Own
Additional Custom Options:
For diamond and precious GEMSTONE ENCRUSTED examples see here – these are only suggestions we will need to provide a quotation.

SHOULDER ENGRAVING range of popular suggestions however if you require something else please ask for a quote on your order form – please be realistic about the detail - The area available is only around 6mm square.

Range of CIGAR BAND STYLE RINGS – see the available shapes. These are available by quotation only.

Any elevated engraving style engraving can be filled with enamel. There is a range of colours to choose Find out more about our ENAMELLED ENGRAVED RINGS.