Each and every Gemstone is unique and different, the stone itself is a natural product 1000's of years old.

While we endeavour to show a selection of recent work and stones available there are some reasons why gemstone colour can vary significantly and cannot always be predicted.

More gemstone ring examples:
see the rings | gemstone types | get a quote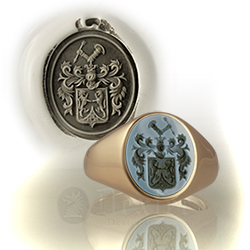 Gemstone examples on the website & Factors that influence the colour you see:
Your monitor's colour balance; Looking at the same image on different devices will demonstrate how different colours appear on different screens. This is not just your monitor settings but different manufacturing components used within it.

While we try and photograph examples as naturally as possible, the amount, direction, and type (natural, halogen, tungsten etc.) of light which was on the subject at the time it was photographed can alter its appearance.

The alloy of gold in which the stone is mounted; The different hues of 9, 14 or 18ct yellow gold resonate differently, and affect the gemstones colour. Either yellow, white or red gold can affect the appearance even more dramatically.
Stones are lapped (the process of removing surface material and polishing the stone) before setting and after engraving so the exact colour cannot be pre-determined. Each second on the lapidary's wheel can reveal a different characteristic to the individual gemstones appearance. Although this cannot be predicted, it becomes part of the stones unique character and charm.

Engraving on the Sardonyx stone; remember your engraving might not expose as much of the darker layer underneath, giving the stone a darker overall appearance. Conversely a simple and delicate engraving will leave behind more of the lighter top surface making the overall appearance seem lighter.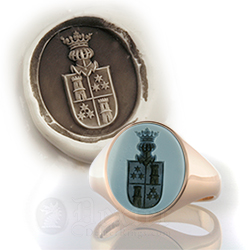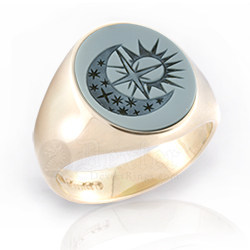 Seal engraved gemstone rings are chosen for the level of craftsmanship and unique beauty. Stone engraving is an extremely ancient and rare craft, hence discerning customers are making a choice to purchase something which is rarely commissioned in the world today, a true heirloom item.

Our customers understand in commissioning a gemstone ring you are asking a team of artists, and the master engraver in particular, to create something beautiful for them using ancient and natural materials - In the same way one might commission a painting by your favourite artist. Unlike choosing a car or an item of clothing, specific characteristics like exact colour are simply not possible.
Fortunately the internet has given a decreasing number of craftsmen a way of offering their craft to a wider audience. This could not have been imagined in a time when a customer strived to find a shop that offered such a thing, and matters of colour where left to the craftsman's discretion. However in a world where we are constantly offered choice unfortunately there are limitations when commissioning time honoured craftsmanship on ancient natural materials.

We have a good selection of stones and we will try and accommodate your requirements. However this can only be limited to simple general descriptions: either 'dark shade' or ˜'light shade' 'muted' or 'colourful' etc. Unfortunately for reasons already described requesting exacting images of un-engraved stones, can be inadvertently misleading.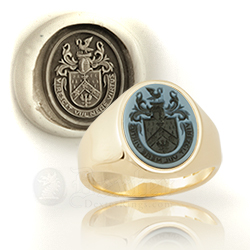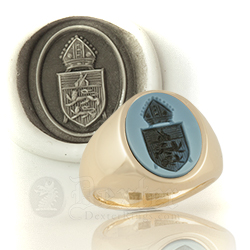 If the exact colour is crucial to you we would advise against commissioning a gemstone ring, with the best will in the world it is simply not possible to guarantee your requirements. However if you love the idea of owning and wearing a rare heirloom quality item, a union of ancient geology, rare and beautiful artistry then it would be our pleasure to assist you.

Above: Examples of Recent Blue Sardonyx Gemstone Signe Ring Commissions Please Click Images for Enlarged Detail