This seal ring is a reproduction of the famous painting 'Napoleon Crossing the Alps' by Jacques-Louis David. There are 5 versions of the painting which are also collectively known as 'Napoleon at the Saint-Bernard Pass' or 'Bonaparte Crossing the Alps'. The painting depicts Napoleon leading his troops through St. Bernard pass in the Alps in spring 1800, prior to military victory in Italy. Ironically the bare, rather than a gloved hand may indicate Napoleon wished to appear a peacemaker rather than the conqueror. The original painting was a gift to Napoleon by the then king of Spain, Charles IV.
Please Click Images to SEE The Detail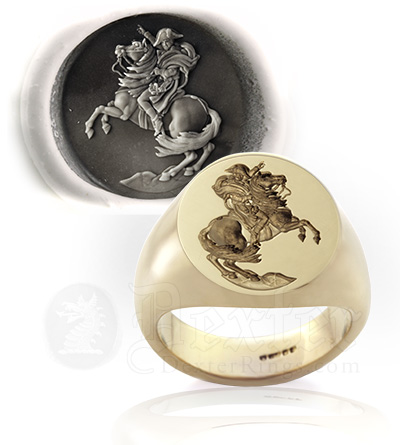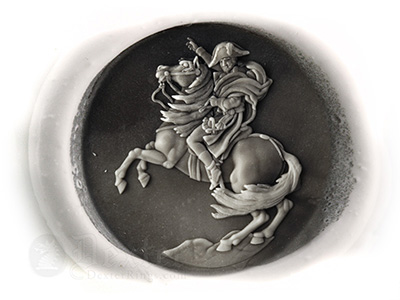 Although large for a signet ring, the round face measuring 16mm in diameter shows the detail that can be achieved in what is obviously still a relatively small space. We feel it is testament to the artistry of the master craftsmen at Dexter, the engraved depiction has captured the essence of the classical painting in miniature. Please take time to enlarge the images see the detail for yourself. The wax impression taken from the seal ring shows the engraved composition in considerable detail.