Clan Rings
Scottish Clan Ring Examples
YOUR Clan on a Ring Available to Buy Today See Prices
---
Selection of Scottish clan rings are shown in a variety of sizes and shapes of ring and in one of three engraving styles. Rings can be engraved 'for show' - Clan motto reads correctly on the ring. 'Traditional Seal' – Reversed for making wax seals in the traditional way. 'Elevated Style' Sometimes called relief engraving where key areas of the Clan badge are raised.
Right: MacDonald of Clanranald Examples: From Left Seal Engraved Ring & its Wax Seal, Show Engraved (un-Reversed), and Elevated Style
YOUR Clan YOUR Ring SEE PRICES & OPTIONS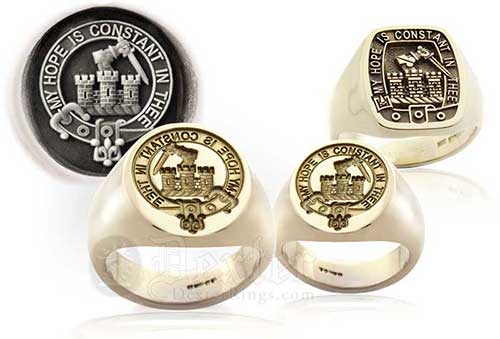 ---
ANY Clan | ANY Ring | ANY Style:
---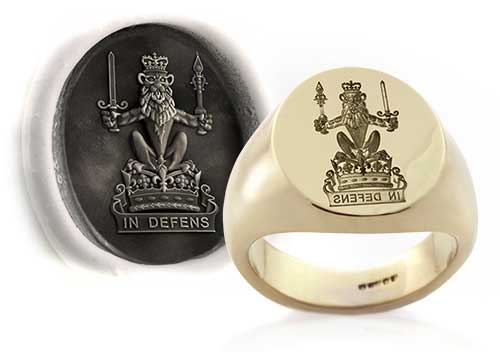 Any Scottish Clan Badge can be engraved onto the ring of your choice in a style you like. If the ring is not shown here we supply artwork prior to engraving your new ring. Please click images for more detail.
Left: Scottish Royal Crest Motto IN DEFENS - Seal engraved onto an oval ring
Related: See Heraldic Crests | Family Coat of Arms | Prices & Options for YOUR CLAN RING
Above: Turnbull | Drummond | Graham | Munro | Bruce | Hamilton | Campbell | Morrison | Fraser | Wallace | Clan Macdonald of Clanranald | McAlees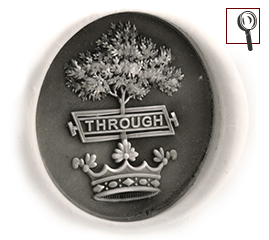 Left: SEE the hand crafted detail we achieve for yourself!
Above: Some More Clan Rings: From top Left - Wallace | Macaulay | Macdonald of Macdonald | Hunter | McIntosh | Young | Sinclair | MacLean | Graham | Campbell | McDowell | Kennedy | Lamont | Ramsay | Irvine | Douglas | Cunningham | Brodie | Boyd | MacKenzie | Robertson
Christmas Delivery Guaranteed - See Details


Yes we are still guaranteeing orders for Christmas delivery! Most of our products will be guaranteed to be under your tree, all ready to gift your loved one on the big day. If you go ahead and order, be sure to mention you REQUIRE CHRISTMAS DELIVERY in the comments section. This will be confirmed by the helpful Dexter Elves. In the unlikely event this is not possible we will always advise you of the alternatives straight away, or provide a refund if this is not acceptable.